Central Vietnam has a lot to offer whether you are looking for historical sites or natural landscapes. A trip around this region will give you a tour through various UNESCO World Heritage Sites that are sure to satisfy your historical and cultural cravings for Vietnam.Here are among the top places we recommend you visit in Central Vietnam
Lang Co
Lang Co Bay is among the most beautiful bays not just in Vietnam but in the entire world. It boasts of golden sandy beaches and crystal clear waters that are surrounded with luscious hills and mountains. The place is also the best jump off to get to UNESCO World Heritage Sites in the country including those in Hue city, Hoi An and My Son.
Danang City
This city represents the modern portion of Vietnam with various skyscrapers and other landmarks that dot the area. Da Nang is frequented by many foreign tourists because of its accessibility by both sea and air travel – direct flights from neighboring countries such as Singapore, Hong Kong and Malaysia are accommodated in the Da Nang International Airport.
My Son
My Son is an imperial city during the Cham dynasty from the 4th to 12th century. There are a lot of things to see in the city including the My Son Sanctuary which holds several religious relics and architecture. The place is a complicated maze of temples and towers that connect to each other. Over the years, scientists and archaeologists were able to unveil various historical mysteries that the place holds. It has been declared as a UNESCO Heritage Site in 1999. The sanctuary is only about 70 kilometers away from Da Nang.
Hoi An
The historic town of Hoi An has been considered as one of the UNESCO Heritage Sites as among the most well-preserved trading ports in the Southeast Asian region. Cruising along the Thu Bon River in the Quang Nam province will give you a glimpse of both the local and foreign influences that reflect in its buildings and streets. Hoi An is among the best places to experience the rich history and culture of Vietnam.
Hue City
The town of Hue, which played a major role as the capital of Imperial Vietnam from 1802 to 1945, is home to another UNESCO Heritage Site, the Complex of Hue Monuments. The huge complex is a site to behold and contains administrative buildings, royal places, shrines and residences, King's tombs and pagodas. Of course, another reason that tourists both local and foreign alike love visiting the town of Hue is the culinary scene. Here you can delight in various local dishes that are created with taste, aesthetics and nutrition in mind.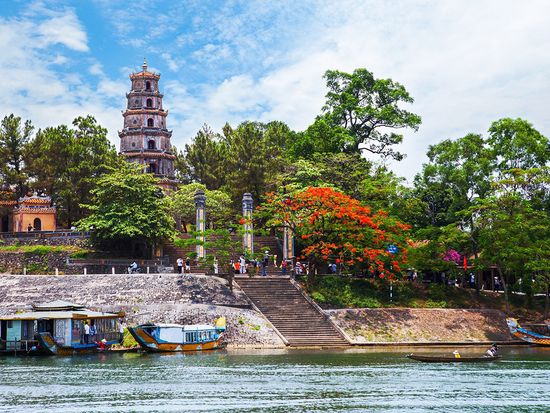 Bach Ma: Those who love exploring the wildlife will find haven in Bach Ma National Park. The place is a huge 22 hectare land that has been expanded further in order to protect a more diverse ecological system. The highest peak in Bach Ma tops at 1,450 meters in height and has clouds all throughout the year. The place is just around 25 kilometers from Lang Co Bay.